Skip to Content
Automated Rotary Table (Turntable) Enhancements
Robotic Automation Systems introduces several enhancements to their direct drive automated rotary tables/turntables used for an automated box or tote filling systems at the end of plastic injection molding machines or other automation applications.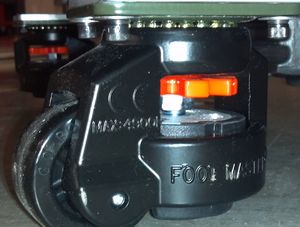 Upgraded Casters With Easy Leveling Capability
The upgraded heavy duty 550 lbs swivel type bearing casters are incredibly robust for long life and durability, roll easier, and now include thumbwheel leveling capability making it fast and easy to level the table for more stability operation.
Audible Safety Alarm
Each automated rotary table/turntable is now equipped with an audible safety alarm that "chirps" to warn the operator before the dial indexes. To avoid overfilling, the alarm also alerts the operator if a box or tote arrives at the filling position already full, and remains until the full box has been replaced.
Upgraded PLC Option 
The programmable logic control (PLC) option now employs the latest Allen Bradley Micrologix PLC with a mini touch screen for changing counters and displays.
Robotic Automation Systems direct drive automated box filling system turntables come in 36″, 48″ and 60″ diameter table sizes that meet almost all applications, or can be customized for your specific need. Unlike other belt or friction drive automated box fill system rotary tables and turntables, these direct drive rotary tables employ a direct drive motor with a torque monitor that eliminates tensioning and maintenance.
The easy to program automated direct drive rotary tables can operate on a count signal from the plastic injection molding machine, robot, or weigh hopper, and can be programmed to fill all different box or shipping container sizes and shapes. An optional counter will count machine shots and send an indexing signal. Control options include the rotary table's PLC or control via dry contact relay from the plastic injection molding machine system's PLC.
The robust design and construction are engineered for long life in industrial environments. An optional polycarbonate box cover is available to eliminate part contamination.
Even with all of these upgrades and robust construction, Robotic Automation Systems rotary tables are typically lower in cost than current options and are ready for fast configuration and shipping.