Skip to Content
Trust Our Custom Machining Team With Your Project
At Robotic Automation Systems, we focus all our services on meeting or exceeding our clients' unique needs with various parts and machines. Our exceptional services include solutions for machinery automation and product creation with specific measurements and features, ranging from turnkey automation to custom-engineered and built options tailored to your individual specifications, including custom machining. Custom machining requires industry expertise in techniques and investment in outstanding equipment to ensure the best possible results. Our team has ample experience performing custom machining for clients in a wide array of industries, such as automotive, medical, and industrial.
What Is Custom Machining & What Types Are Available?
Robotic Automation Systems creates parts to our client's specifications for specific purposes. We utilize manual and advanced machining equipment to create high-quality parts. Examples of our resources include CNC milling, CNC turning, and laser cutting. Our equipment includes industry staples like a three-axis CNC machine, ensuring higher precision and better-quality finished parts made with various materials. These services apply to many machining options, such as custom metal machining and custom plastic machining. We've described some types of custom machining we specialize in: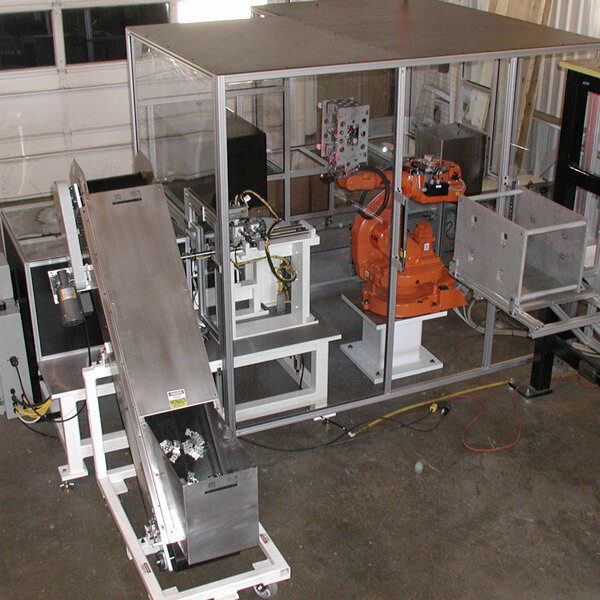 CNC Milling – As machinists, we can turn and drill metals using CNC milling, and the process applies to other materials.
CNC Turning – This process is an option that machinists use in custom machining by rotating a metal rod with help from a CNC-operated cutting tool to cut off parts of the metal or other material.
CNC Router – A CNC router cuts complex pieces out of metal sheets. This tool and process are used for large-scale custom machining projects.
Laser Cutting – The laser cutting process vaporizes, melts, or gradually removes material. The process typically uses optics, a guidance system, and an assist gas to direct and focus the beam into the workpiece.
Why You May Need Custom Machining
Custom machining lets us design your parts and products with unique dimensions and to your individual specifications with precision and customization. Robotic Automation Systems can flexibly change your designer's CAD files to your requirements as they change over time. We can also meet custom machining requirements while minimizing delivery time since CNC machining applies to many materials, like metals and plastics. Our services include creating made-to-order parts and products using custom machining.
When Do You Need Custom Machining?
You may need custom machining in various production situations. The following are clear examples of when you need custom machining to complete your project:
Manufacturing Parts With Special Requirements – When you need custom-manufactured parts for equipment or custom orders, we can produce unique parts so that you can undertake special projects and increase efficiency.
Creating Discontinued, Obsolete, or Replacement Parts – Many machines that businesses use are many decades old, making it potentially impossible to find parts to fit their aging designs. However, custom machining can produce parts to your needed specifications.
Handling Difficult Materials – Some materials can cause problems during production, such as plastics, bronze, and stainless steel. You need specialized equipment and expertise to carry out machining.
Simplifying Production Process – Customized equipment frees you from relying on others to create parts. Your production process gets more efficient with shorter turnaround times.
Details About Our Custom Precision Machining
Robotic Automation Systems' collection of custom machining solutions includes prototyping, reverse-engineered parts, single part machining, short-medium run production, and CAD/CAM work. We machine various metals, such as brass, tool steel, stainless steel, mild steel, and aluminum. We specialize in machining on ABS, acetal, Delrin, nylon, polycarbonate, PVC, and UHMW if you need custom plastic machining. Clients can expect us to complete projects with a standard lead time of two to four weeks, a rush lead time of one to two weeks, and an emergency lead time of one to two days. Our collection of equipment for custom precision machining includes the following:
6" x 18" Precision surface grinder (accuracy +/-.0002)
Manual lathe 13" swing x 40" between centers (standard accuracy +/-.005, precision +/-.0005)
Milltronics three-axis VM20 CNC (XY table travel 20" x 40", 26" Z travel) (*can machine parts up to 20"W x 40"L x 20"H) (standard accuracy +/-.0005)
Two Kent two-axis mills (13" x 30" travel) (*can machine parts up to 20"W x 39"L x 16"H w/standard accuracy +/-.005, precision +/-.0005)
Finishing (glass bead blasting, small part tumbling, outside heat treatment, anodizing & plating w/our network of vendors)
Contact Robotic Automation Systems Today
Robotic Automation Systems covers your custom precision machining needs on many materials, including metals and plastics. Our company has ample experience fulfilling clients' unique orders with impressive precision and timely work without sacrificing quality. Contact us today to learn more about our custom machining services and start your project.
Integrators for the Plastics Industry