Skip to Content
Trust Our Custom Machining Team With Your Project
At Robotic Automation Systems, we focus all our services on meeting or exceeding our clients' unique needs with various parts and machines. Our exceptional services include solutions for machinery automation and product creation with specific measurements and features, ranging from turnkey automation to custom-engineered and built options tailored to your individual specifications, including custom machining. Custom machining requires industry expertise in techniques and investment in outstanding equipment to ensure the best possible results. Our team has ample experience performing custom machining for clients in a wide array of industries, such as automotive, medical, and industrial.
Custom Machining
Robotic Automation Systems offers custom machining services for both its internal automaton machine building needs as well as external needs for our customers or customers that just need custom parts made. We use the current up to date Solid Works to design our custom equipment, and then have Cam Works to support our 3 Axis machining needs whenever relevant. We also have the abilty to use conversational programming when needed to keep costs down and make the parts to your specifications. If you are in the need of low volume, but cost-effective precision-made parts then we would look forward to the opportunity to quote you. We stock several sizes of 6061 aluminum, white and black Delrin, UHMW, and some steel and stainless steel to try and meet our needs and those of our customers. We can meet a quick turn around on delivery.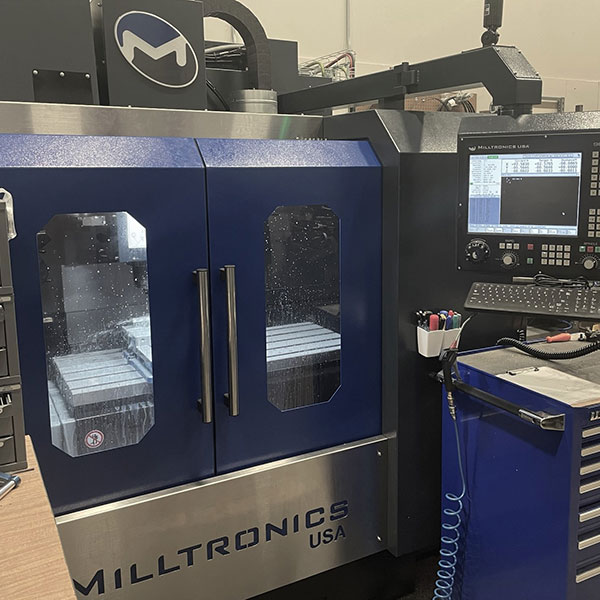 Our Equipment Includes:
6" x 18" Precision surface grinder (accuracy +/-.0002)
Manual lathe 13" swing x 40" between centers (standard accuracy +/-.005, precision +/-.0005)
Milltronics Three Axis 2022 VM4020 CNC 10,000 RPM spindle with internal cooling. (XY table 20" x 40" x 26" Z travel). (Can machine parts 20"Wx40"Lx 20" H) Standard accuracy of +/-.0005
Two Kent two-axis mills (13" x 30" travel) (*can machine parts up to 20"W x 39"L x 16"H w/standard accuracy +/-.005, precision +/-.0005)
Finishing (glass bead blasting, small part tumbling, outside heat treatment, anodizing & plating w/our network of vendors)
Contact Robotic Automation Systems Today
Robotic Automation Systems covers your custom precision machining needs on many materials, including metals and plastics. Our company has ample experience fulfilling clients' unique orders with impressive precision and timely work. Contact us today to learn more about our custom machining services and start your project.