Skip to Content
High-Speed 4-Axis SCARA Robots
4-Axis SCARA Robots for Industrial Automation
Robotic Automation Systems offers 4-axis SCARA robots that provide a wide circular work envelope with a broad range of movement for added flexibility and precision for your production needs throughout the United States. Our state-of-the-art 4-axis SCARA industrial robots are based on a 4-axis design with precise, smooth motions that closely resemble a human arm.
These industrial robots have a small footprint, can be built on a smaller scale, and offer high speed, heavy payload, high precision, and large work envelopes with fully integrated solutions. Contact us today to learn more about our 4-axis SCARA robots!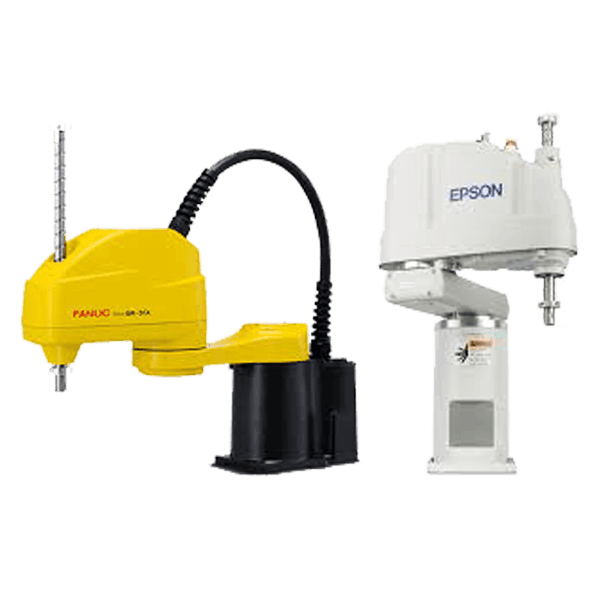 What Is a 4-Axis SCARA Robot?
4-axis SCARA (Selective Compliance Articulated Robot Arm) robots are a type of industrial robot performing with high speed, high accuracy, and maximum stability.
The 4-axis SCARA robot has four degrees of freedom to increase and improve the repeatability of pick and place tasks from one location to another or the steps in an assembly.
What Are the Benefits of Using 4-Axis SCARA Robots?
The key advantages of using our 4-axis SCARA robots for industrial automation include:
High-speed
Minimum maintenance required
Easy to use
High-accuracy
Can achieve tolerances lower than 10 microns
Convenient and compact design
4-Axis SCARA Robot Applications
Robotic Automation Systems employs both Epson Robots and FANUC Robotics 4-axis SCARA robots in our turnkey plastic injection molding automation solutions. Typical plastic injection molding automation applications for top entry 4-axis SCARA robots include:
Stacking automation
Palletizing automation
Inspection automation
Get Started with Robotic Automation Systems Today
Our 4-axis SCARA robots are designed for high-speed, high-accuracy, and complete turnkey automation solutions. Discover more about Robotic Automation Systems and what our clients have to say about our expertise, customer service, and integrated solutions. Contact us to learn more about our 4-axis SCARA robots!