Skip to Content
 Blow Molding Solutions from Robotic Automation Systems
Robotic Automation Systems offers customers a wide array of custom-engineered solutions to their production automation needs, including blow molding automation. Our custom-built robotics integrate entirely into your professional process and application. We proudly provide top-tier solutions tailored to your individual demands, from turnkey automation systems to unique engineering to fulfill your specific robotic automation application tooling and needs. You can rely on us for a broad range of projects, ranging from entry-level to complex projects to complicated production applications.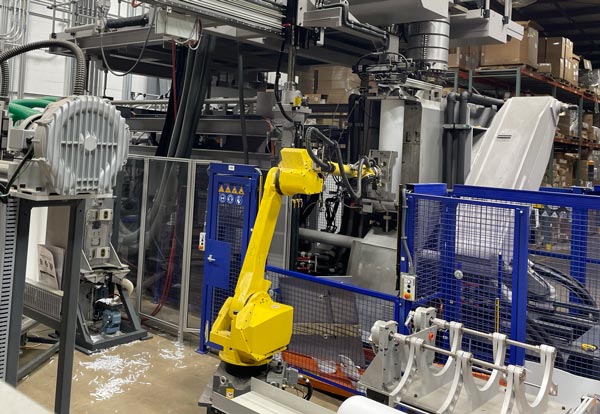 Part Take Out Robots
Robotic Automation Systems has worked directly with Kautex Machinery integrating Fanuc M710 Robots to work directly with Part take out arms that are common on Blow molding machines. The two devices communicate via a custom interface using an Allen Bradley PLC and Ethernet IP communication to the Fanuc Robot so we can transfer parts from the detabbing station directly to our robot to do other Post Processing solutions after we have picked the part. We use this robot as flexible automation to move the product around the cell from cooling stations, to cutting stations, to facing stations, and then out to an exit conveyor where it can be packaged.
Blow Molding Automation Processes
Automating your blow molding process improves safety and simplifies repetitive and routine tasks. These beneficial traits can increase productivity levels and business output. Robotic Automation Systems completes your machine's conveyor system by integrating an auto-deflashing unit with auxiliary equipment like your mixer, conveyor, crusher and grinder, leak tester, and post-cooling unit. We provide all the following equipment for your automation needs:
Insert Loading Using a Fanuc Robot and Flexible Feeder – This equipment bolts directly to the blow molding machine, including in-mold labeling and insert loading from the operator side. We work with the blow molder equipment supplier to have a working machine interface so that the parison drop can be controlled and the take-out arm on the backside of the machine, so all the equipment works together.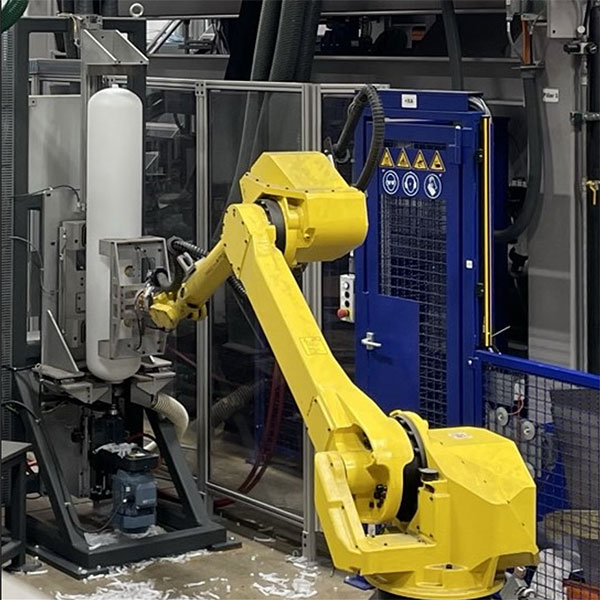 Servo-Controlled Vertical Facing Station
We can make these to be manually loaded or robotically loaded. We let the customer adjust to final cut height from our supplied HMI since blow-molded parts may shrink at different rates due to the percentage of regrinding and cooling times. We also offer chip removal vacuum systems as we carry out this process.
Post-Cooling Stations
These can be forced air, ambient air, or AC units to help cool the parts and stabilize them before packaging. These systems are robotically loaded after picking the part from the blow molding machine.
Contact Us to Start Your Molding Project
Robotic Automation Systems provides exceptional machine solutions for blow molding automation. Our company has worked directly with Kautex machines and will work with other blow mold machine manufacturers. With flexible and adjustable automation, our solutions apply to continuous variables of the blow molding processes. We offer equipment for the upstream side, and you can rely on us for the downstream side, including part picking, cooling, hot knife cutting, facing, and setting finished parts. Contact us today to discuss your automation needs and start your project.