Skip to Content
Authorized Integrator of FANUC Robots
Robotic Automation Systems is certified as an Authorized Integrator of FANUC Robots, serving the plastic injection molding industry throughout the United States and North America.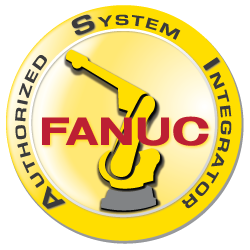 Our Focus
With over 20 years of experience, Robotic Automation Systems is known for
its plastic injection molding automation expertise and full service. Our focus includes:
End 0f Arm Tooling (EOAT)
In-Mold Decorating Automation
Insert Loading Automation
Overmolding (Press To Press Transfer) Automation
Vision Inspection Automation
Assembly Automation
Packaging Automation
Auxiliary Operations Automation
Efficient and Effective Custom Automation Equipment
We take pride in the reputation we've earned of listening to our client's needs and engineering the most efficient and effective custom automation equipment to fit those needs, on time and on budget!
From concept to completion, we work with you to provide a fully functional, state-of-the-art, turnkey solution to give you an edge over your competition. We also provide the training and ongoing support you need.
Whether a complete turnkey automation cell or specific robot automation application and tooling, Robotic Automation Systems solutions are fully integrated into your application.
Entry Level to Complex Projects
Horizontal & Vertical Plastic Injection Molding Machines (15-6,000 tons)
Intuitive, Intelligent Human Machine Interface (HMI)
Robust, Custom Tooling
Look to Robotic Automation Systems solutions for:
Increased Productivity
Cycle Consistency
Accurate and Repeatable Placement
Mold Protection
Improved Part Quality
Added Versatility
Less Scrap
Addressing Workforce Shortages
Contact us to start a conversation about your robotic automation needs, and how we might help you!